DINOSAURS AND THE HISTORY OF LIFE
GEOLOGY V1001Y - 2001
PRACTICE FINAL EXAM
NAME ______________________________________________
NOTE: The real exam is designed to take 1 hr. You will have a total of 3 hr to finish it. It will be significantly longer than this practice exam!
There will be 6 sections:

I. True - False
II. Multiple Choice
III. Short Answer
IV. Short Essay
V. Dinosaurian Relationships
VI. Dinosaurian Anatomy
---
I. TRUE - FALSE: CIRCLE TRUE OR FALSE TO THE FOLLOWING QUESTIONS.

1. Dinosaurs did not have to regulate their body temperature because they were all very large.
True - False
2. In endothermy the main method of thermoregulation is behavioral.
True - False
3. The diplodocid sauropods include Apatosaurus .
True - False
4. The Carnosauria includes birds.
True - False
5. Dinosaurs have high predator/prey ratios
True - False
---
II. MULTIPLE CHOICE: Circle the BEST choice.

1. The air sac system in birds function mostly as:
a) as accessory lungs to remove more oxygen.

b) protection against the cold.

c) a way of lowering body mass

d) passageways allowing a one-way direction of air through the lungs
2. The Maniraptora include:
a) Deinonychus, birds, and Velociraptor

b) Plateosaurus, Oviraptor, and Archaeopteryx

c) Ornitholestes, Allosaurus, and Struthiomimus

d) Velociraptor, Coelophysis, and Dilophosaurus
3. The semilunate carpal is:
a) a phase of the moon

b) a bone in the hand producing a rocking, bird-like motion of the wrist

c) a bone in the hand which evolved in birds to permit flight

d) one half of the wishbone
4. Archaeopteryx is of:
a) Late Triassic age

b) Early Jurassic age

c) Late Jurassic age

e) Early Cretaceous age
5. Iridium is:
a) a radioactive element useful in dating Cretaceous rocks

b) an element indicative of a supernova at the end of the Cretaceous

c) an element found in a clay layer at the Cretaceous-Tertiary boundary

d) an element diagnostic of asteroid impacts
III. SHORT ANSWER: Give a one to three sentence answer.

1. How can we tell that sauropods did not walk with a sprawling gait and posture?


2. Why do big animals lose heat slower than small animals?
3. What are Haversian canals and what is their importance?
4. Archaeopteryx is a tetanurine. Why?
5. Name three Judith River herbivorous genera and one carnivorous genus of dinosaur that may have eaten them.






---

IV. SHORT ESSAY: PREPARE A SHORT ESSAY (2 TO 3 PARAGRAPHS) ON ONE OF THE FOLLOWING QUESTIONS: WRITE YOUR ANSWERS IN THE SPACE PROVIDED BELOW.

1. What is the evidence and what are the arguments that dinosaurs were warm blooded and controlled their body temperature by internal means (i.e. were endothermic homeotherms)? Be as specific as possible.

---
Some other possible topics include:
Impact theory of mass extinctions

Uses of footprints

Evidence for the relationship of birds to dinosaurs

Effects of dinosaurs on climate

Dinosaurs of the Morrison Formation
---
V. DINOSAURIAN RELATIONSHIPS: Fill out the following cladogram with the characters and taxa listed below, placing the number of each character next to the bar in the cladogram which defines the groups and write the names of the groups on the dashed lines.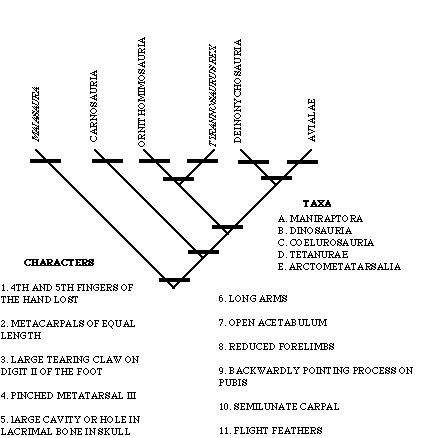 ---
VI. DINOSAURIAN ANATOMY AND IDENTIFICATION: There will be a skeleton for you to label the bones of as in the last exam. However, you will also have to classify it. For example, identify the skeleton as a tyrannosaurid, coelurosaur, tetanurine, theropod based on the characters you observe on the drawing.
---

Return to the Dinosaurs 2001 home page
---
send comments and questions to :polsen@ldeo.columbia.edu