Back to Lecture 18
BACK TO DINOSAURS 1997 HOME PAGE
---
Lecture 19
Solnhofen - Birds ARE Dinosaurs!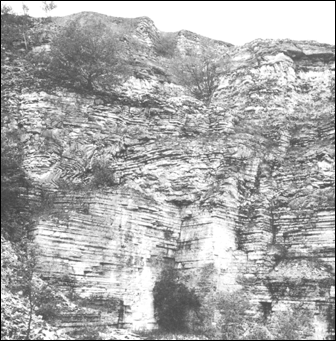 Outcrop at Solnhofen of the Plattenkalk.
Solnhofen
Climate

Environment

Nearly perfectly preserved small teleost fish from Solnhofen, Bavaria. Fish is only two inches long. This preservation is typical of what occurs in bodies of water, such as the lagoons of Solnhofen, that lack oxyen at the bottom. The lack of oxygen and the lack of currents excluded scavangers and disruptive physical conditions resulting in superb preservation. Unfortunately, it is very rare for a terrestrial organism to find its way into this sort of an environment.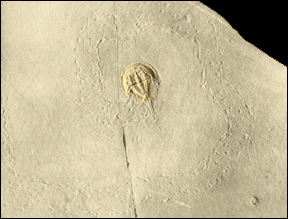 Horseshoe crab (Mesolimulus) death trail.

Saurischia
Coelurosauria

Compsognathus longipes is a small theropod, coelurosaurian dinosaur from Solnhofen. The type specimen (below) has in its gut region the remains of a small long-tailed lizard. There are no signs of scale or feather impressions. If a specimen such as this were to have impressions of its integument, there would be some basis for knowing if small dinosaurs has an insulatory coating of feathers.

On the right is a lithograph of Compsognathus longipes from Solnhofen. This lithograph was made on the lithographic limestone from Solnhofen itself. Such lithographic plates are the reason the quarries were opened in the first place. If you click on the image, you will go to a web site in which Compsognathus is described in more detail.
Maniraptora
1. three-toed foot
2. digits IV and V lost on hand
3. long arms
4. semilunate carpal
5. fused pelvis
6. large hole in lacrimal bone in skull
7. ?no unique derived characters?
8. giant, hook-like claw on digit II of pes
9. flight feathers
10. ?no unique derived characters?

Cladogram of the Theropoda
Aves
Archaeopteryx lithographica
Below is the Berlin specimen of Archaeopteryx from the Solnhofen Limestone. It was the third specimen found, and unquestionably the most spectacular specimen found to date. Particularly noteworthy are the very fine feather impressions, including the flight feathers of the wings. Despite its' obvious avian nature, Archaeopteryx has a hand virtually identical to other maniraptoran dinosaurs such as Velociraptor.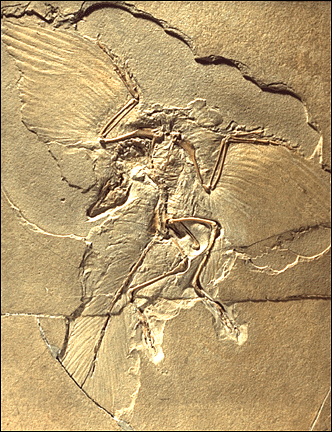 Bird and dino features
---
Go to Lecture 20
---
BACK TO SYLLABUS